The Ultimate Guide to Financing for Glamping Businesses in the USA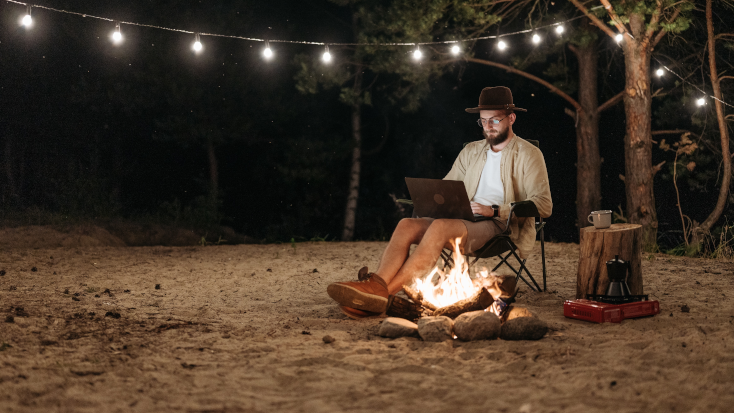 The glamping industry is growing rapidly, with more people seeking unique experiences that offer both comfort and adventure in the great outdoors. Businesses that want to incorporate glamping into their existing hospitality business or start a glamping site have a variety of financing options available. However, it can be difficult to know which one is right for you.
In the US, there are three main groups of financing for starting or developing a glamping business: inventory financing, debt financing, and equity financing. We'll briefly explain each of these, walk you through how to decide which glamping business finance options are best for you. We'll also explain how our Revenue Share Agreement Model solves some of the common issues with securing finance for a glamping site.
Debt Financing for Starting a Glamping Business
Debt financing is when you borrow money to start your new glamping business, like a bank loan. You can use this money to buy land, equipment, and pay for building costs. Once you get the loan, you can invest it in your new glamping site.
Benefits of Debt Financing for Glamping Businesses
Ownership - Once you pay back your loan, you own your business completely. You don't have to share your profits with anyone else like you would with equity funding.
Fixed Repayments - Before you get your loan, you can decide how much you will pay back each month. This helps you budget and plan better, but keep in mind that glamping is seasonal. It can be hard to pay back your loan during a slow or closed season.
Common Problems with Debt Financing for Glamping Businesses
Finding Lenders Who Understand Glamping - Convincing your bank to invest in your glamping business can be hard. Glamping is still a new and small market, and it's hard to predict how it will do. You'll need to explain what glamping is and how it's different from traditional hotels.
A Slow Process and Multiple Lenders - Getting a loan takes time and effort. You'll need to make a business plan and provide financial evidence that your business will work. You may also need to get loans from different lenders.
You May Need a Personal Guarantee - Lenders need to know they can get their money back if you can't pay them. This means you may need to put up your own assets as collateral.
Where to Find Debt Financing for Glamping
In the US, you can try to get a loan from the U.S. Small Business Administration (SBA) or the U.S. Department of Agriculture (USDA). You can also look for local credit unions.
Equity Financing to Start a Glamping Site
Equity financing is a popular way to start a glamping business. You can get funding from friends, family, venture capital, or private equity firms. Equity financing means you get money in exchange for a percentage of your business, and people who invest also want to be included in your business decisions.
Benefits of Equity Financing
Faster Funding with Equity Partnership Than Debt Financing - It's usually faster to get money from investors who are interested in new or growing businesses. You still need to find the right partners who match your vision, but they are less concerned about risk.
Fewer Repayment Burdens Which Can Ease Stress During Off-Seasons - You don't have to make fixed payments with high interest. Repayment depends on the revenue generated. Equity partners become part owners of your glamping business, so they want your business to be successful.
Common Problems with Equity Financing
Good Repayment and Ownership Structure - If friends or family provide capital for your glamping resort, it can lead to uncomfortable conversations. You have to decide how much of your business you want to share, what happens if anything fails, and in which part of your business they will have ownership.



Do they want ownership of the land itself, the glamping tents, or both? Will they want to be involved with every business decision, or do you need to consult them monthly? Will they want any form of guarantee? It becomes clearer with venture capital and private equity firms as they will be clear on which parts of the business they will own.

Some investors will assist with the operating side of the business and some real estate, and others will simply want to invest in the land and are happy for you to shape your glamping site in your own way. Before agreeing to equity financing with any potential partners, it is important to seek professional advice and ask these important questions.

You Might Need More Than One Source - You may need investments from multiple sources. The more partners or owners you have in your business, the more complex it can become.
Financing for Glamping Structures
Inventory financing is a popular way to finance your glamping site. Unlike a traditional loan, there are no fixed repayments, and little or no interest, and the financing is specifically for buying glamping structures, furniture, and decking. An inventory financing company typically buys the physical products and pays the manufacturer directly. Repayment options are often fixed term.
Benefits of Inventory Financing
Clear Ownership of the Glamping Structures - You own the glamping structures and the debt.
No Need to Sell Your Vision to Lenders - With inventory financing, you don't need to convince the lender to provide the loan. The financing company understands the potential of the industry, and you carry the debt. It's your responsibility to ensure your choice of structure and revenue forecasting can match the repayments.
Common Problems with Inventory Financing for Glamping Businesses
Lender and Manufacturer Relationship - Some inventory financing companies have a specific list of manufacturers and structures they work with, which may not align with your vision.
Repayment, Interest, and Guarantee Are Similar to Debt Financing and Can Vary - As you'll own the debt, you need to research the repayment, interest terms, application process, and any potential guarantees needed from each financing company as they vary from lender to lender. They often only do a 'soft-pull' on credit to check your application, which won't affect your personal credit.
Revenue Share Agreement for a Glamping Business
At Branch Out Ventures, we help glamping businesses with financing and logistics to support their inventory and deployment costs, as well as help run their online business, with digital marketing solutions, distribution to online travel agencies, and reservation management.
Our finance and development solution is fast, low risk, and has clear ownership terms to offer glamping business financial support.
How Does a Revenue Share Agreement Work?
We are a partner in your business that is there to support your growth and success. We own the structures until the end of your contract and take a percentage of revenue generated on just the units we manage. The percentage and length of the contract are calculated based on the glamping units you choose and your expansion goals.
We secure the funding and carry the risk so you don't have to. With our revenue share financing model, you are free to use your existing capital to make infrastructure improvements, and you can continue to manage your business effectively, under your own brand, and without risk.
Is a Revenue Share Agreement Right for My Business?
This is good for you if:
You have the land and can fund other aspects of your hospitality business.
You want to completely own the structures at the end of your contract.
You do not want to carry the loan risk.
You want to focus on hosting and are happy to rent the structures until we transfer ownership to you.
Get in contact with us if you're interested in growing or starting a glamping business and would like to learn more.